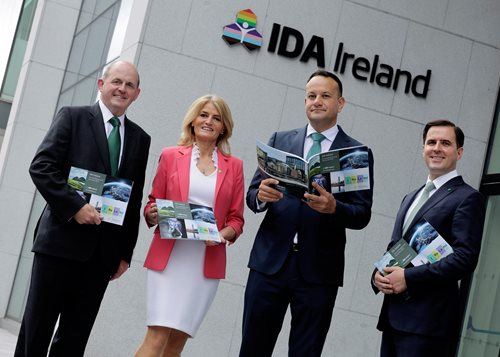 Investment approvals strongest ever in half-year period - IDA IRELAND

First half of 2022 shows Investments up 9% on 2021 and 10% on 2019 pre-pandemic levels

Jobs approvals up 44% on 2021 figures and 33% above 2019 pre-pandemic levels

Despite significant global economic headwinds, FDI continues to prove resilient in Ireland
Performance to end Q2 2022
Investment numbers increased & Foreign Direct Investment (FDI) employment creation plans rose above pre-pandemic record levels (2019) in the first half of 2022

Strong levels of investment by new and existing investors in Ireland

Performance underlines the country's ongoing reputation as a competitive, stable and resilient place in which to do business

155 investments won up to the end of Q2 – 73 of them new name investments

Associated employment potential of over 18,000 jobs

Strong regional performance continued with 73 of the 155 investments going to regional locations


Outlook
Global FDI entered 2022 with recovery momentum, however early indicators are that this uptick stalled during Q1 2022

Global economy facing severe headwinds with the outlook dependent on the future trajectory of the Russia-Ukraine war, inflation, monetary policy and geopolitical developments
Outlook for IDA H2 pipeline remains relatively positive despite difficult operating context
However, in a challenging external environment, a focus on ensuring Ireland has the immediate and medium-term absorptive capacity to support continued growth remains vital.

July 6th, 2022 Dublin. IDA Ireland, the inward investment agency of the Irish Government, today reported significant investment growth in the first half of 2022, returning FDI employment creation plans to above the pre-pandemic 2019 record levels, despite a continuing challenging global environment.
155 investments were won, with associated employment potential of over 18,000 jobs. 73 were new name investments. 73 of the 155 investments won went to regional locations.
Several investments approved and announced in the first half of the year involve large job numbers and significant capital investments.
Speaking today at the launch of IDA Ireland's 2021 Annual Report, Tánaiste and Minister for Enterprise, Trade and Employment, Leo Varadkar said: "These are incredible results. We had a record year last year for foreign direct investment and now, today, we see that we've exceeded that again in the first six months of the year with investment up 9% on last year. That's around 18,000 new jobs. Given everything that's happened over the last few years, that really is remarkable. It's showing no sign of slowing down. We should never forget that the jobs and revenue created by multinationals helped to keep us out of recession when the pandemic hit and are now giving us the financial firepower to ease the cost of living crisis and avoid recession once again.
We've worked hard to create a welcoming environment for FDI in all parts of the country and the strong regional spread of jobs and investment in today's results demonstrates government policy, with 73 of the 155 investments outside of Dublin. We want long-term sustainable jobs, work that pays better, in every county in the country. That is our objective and I'm glad to see that reflected in the results today.
"However there is a word of caution in these figures too. With inflation, Putin's war on Ukraine, increased international competition for FDI and climate change and digital technology creating the impetus for rapid and transformational change, we cannot afford to be complacent. We never take this investment for granted and will continue to work hard to remain an attractive location for investment in the years to come. We are currently reviewing our overall enterprise policy, which has been a resounding success to date, and will continue to constantly self-evaluate to make sure we remain competitive and an attractive place to create jobs."
Martin Shanahan, CEO IDA Ireland said: "These are very strong half year results achieved against a backdrop of a global pandemic, Brexit, considerable geo-political uncertainty globally, inflationary pressures, supply chain challenges, climate change and energy issues and, since the start of the year, Russia's invasion of Ukraine. It shows the endurance and strength of the FDI sector with 155 investments approved so far this year compared to 142 for the same period in 2021. The associated employment potential is up significantly, at over 18,000, compared to over 12,530 in H1 2021. Both investments and employment potential are now ahead of 2019 pre-pandemic levels. It's proof that our strategy of continuing to concentrate on core sectors of focus, which have proven durability, is the correct one. Winning investments for regional locations across Ireland is another key focus for IDA and once again, in the first half of 2022 we see it yielding very good results, with 73 of the 155 – that's 47% of investments – approved for outside of Dublin."
Ireland's existing base of foreign direct investment is a core national asset that we cannot take for granted. The benefit of FDI, as outlined in the IDA's annual report 2021 launched today, shows the many contributions that FDI makes to the economy, including direct and indirect employment, 72% of export sales, 70% of corporation tax, and direct expenditure on pay, materials and services totalling €27.9bn.
Martin Shanahan spoke of the importance of client companies, without whom there would be no investment, and also acknowledged the support of Government, the Department of Enterprise, Trade and Employment and IDA teams in Ireland and overseas.
The CEO added: "Notwithstanding the serious global challenges and uncertainties on the path ahead, FDI is well placed to remain a vital contributor to Ireland's prosperity and future success. Threats remain from a resurgence of Covid-19, the high level of risk and uncertainty in global markets, despite improvements in the global outlook. Volatile markets, the future trajectory of the Russia-Ukraine war, inflation and monetary policy, ongoing disruption to global supply chains, UK-EU tensions and geopolitical developments are adding to the uncertainty in the global FDI environment."
Investors commitment to Ireland remains strong. The country's value proposition as a place in which to do business remains, as evidenced by these results, a compelling one. As we seek to lay the foundations for continued growth and transformation in the FDI base in the years ahead, our success will depend on progress towards enhancing the carrying capacity of the economy in the immediate and medium-term. The key areas requiring attention remain Planning, Housing, Energy, Water and wider infrastructure. Policies that support the continued availability of talent are also critical. Managing costs in the current inflationary environment and executing on planned capital projects will be challenging, but important for Ireland's continued competitiveness.


Key investments in H1 2022
Intel – Kildare - announced a substantial further investment of €12 billion in Ireland as part of its overall European development plans. It brings to €30 billion the total invested in Ireland since 1989

Apple – Cork - announced that it is to further expand its operations in Cork with the addition of a new campus building that will afford it extra capacity to accommodate 1,300 employees. Apple has invested more than €250 million over the past five years in expanding its campus in Cork where it employs the majority of its 6,000 staff in Ireland.

TikTok – Dublin - TikTok's growth in Ireland continues with the news that it is to hire an additional 1,000 workers. It brings to 3,000 the number of people it will employ in Ireland.

Workday - Dublin - A leader in enterprise cloud applications for finance and human resources, Workday announced that it intends to create 1,000 new jobs over the next two years at its European headquarters in Dublin, increasing its Ireland-based workforce by approximately 60% with plans to construct its new European headquarters in Dublin

Merck- Cork – Merck announced it is to invest approximately €414 million to increase membrane manufacturing capacity in Carrigtwohill and plans to build a new manufacturing facility at Blarney Business Park in Cork. The investment, which is the largest in a single site ever for Merck's Life Science business sector, will create more than 370 permanent jobs

Citi – Dublin – Citi announced that it intends to create 300 new jobs for Ireland in 2022. The bank employs 2,500 people in Ireland currently. It has a significant presence in Dublin with several of its global businesses operating here

MarketStar – Dublin - The global leader in outsourced sales and B2B revenue acceleration, MarketStar announced a new location for its EMEA headquarters in Dublin's Central Park Business District, with plans to create up to 300 new jobs over the next three years, bringing its Dublin-based team to 500 people by 2025

Lilly - Limerick - Lilly announced plans to invest more than €400 million in a brand-new manufacturing facility in Limerick. The project is expected to create more than 300 jobs

Boston Scientific - Galway – BSCI unveiled a new €100 million expansion of its operations at Ballybrit in Galway. The expansion is expected to enable 300+ jobs and includes more than 40,000ft2 of medical device manufacturing space that will be powered by renewable energy

Analog Devices - Limerick announced it will invest €100 million in ADI Catalyst, a 100,000 ft2 custom built facility that will see the creation of 250 jobs

VMware – Dublin - VMWare is extending its presence in Dublin with a commitment to recruit 205 new technologists by 2025 to drive further global innovation around its multi-cloud platform and the way businesses consume cloud services

Janssen – Cork- announced an expansion of its biopharmaceutical supply chain facility in Ringaskiddy, County Cork. The €150 million investment in the facility has the potential to create 180 new full-time jobs

Astra Zeneca – Dublin - Alexion, AstraZeneca's Rare Disease group, announced a €65 million investment in new and enhanced capabilities across its sites in College Park, Blanchardstown and Monksland Industrial Park, Athlone

Ultra Clean Holdings Inc – Cavan - announced that it is establishing an Advanced Technology Cleaning Centre (ATCC) in Cavan, Ireland, creating approximately 100 jobs

Johnson & Johnson – Galway - Cerenovus, an emerging leader in neurovascular care and part of Johnson & Johnson Medical Devices Companies*, announced a €50M (US$55M) investment over the next three years at its site in Galway, Ireland

Johnson & Johnson Vision Limerick - announced a €35 million investment in its facility in Limerick with the potential to create up to 200 jobs over the next three years

Okta – Dublin - Okta, Inc, the leading independent provider of identity and access management solutions, announced it is to open a new office in Dublin's Docklands, creating 200 new jobs by 2024 in Dublin

Limerick - Three Ireland - announced a strong expansion of its operations at its Limerick customer experience centre, with the creation of 175 new jobs over the next four years as the Irish office begins to export services to Three UK business customers for the first time

Remitly Global, Inc. Cork - Remitly, a leading digital financial services provider for immigrants and their families, announced it will increase operations in Cork, creating approximately 120 jobs over the next six months

Signify Health – Galway - a leading U.S. value-based healthcare platform that leverages advanced analytics, technology, and nationwide healthcare provider networks, announced the opening of a new technology centre that is expected to create more than 125 new technology innovation roles in Galway during the next two years

Udemy – Dublin - a leading destination for learning and teaching online, announced that it plans to expand its EMEA headquarters in Dublin, creating more than 120 new jobs in 2022

Supermetrics – Dublin - Helsinki SaaS data integration tool that automates resource-consuming data delivery Supermetrics announced the creation of up to 100 new jobs

Gong – Dublin - Reality Platform (™) Gong announced plans to create 80 new jobs in 2022 at its recently established EMEA headquarters in Dublin

Horizon Therapeutics plc – Dublin and Waterford - Horizon announced that it expects to employ up to 100 additional employees in Waterford and Dublin

Waystone – Cashel - the leading provider of institutional governance, risk, administration and compliance services to the asset management industry, announced that it is to substantially increase its Ireland-based workforce by creating up to 100 additional new roles in Cashel, Co. Tipperary, following its recent growth

Legato Health Technologies Ireland Ltd. – Limerick - Legato announced the creation of a further 80 jobs at its R&D Hub in the National Technology Park, Limerick, bringing total numbers to 200

MGS Manufacturing – Kildare – the company announced plans to create 100 new jobs following a €7m investment to extend its Leixlip plant by 20,000 ft. It follows MSG's continued success and growth within the healthcare sector. The Leixlip plant was established in 2011 and employed around 120 people at the time of the announcement

Amcor – Sligo - Amcor announced a new multi-million-euro investment that will add thermoformed trays to its Ireland site, allowing it to become a one-stop-shop for converted healthcare packaging. The investment will create 75 jobs

Concentrix – Letterkenny - Leading global provider of customer experience (CX) solutions and technology, Concentrix announced the creation of 50 remote working roles

Zinkworks – Letterkenny - Telecoms & Financial Services Research & Development company Zinkworks announced the establishment of a software engineering Letterkenny creating 50 new jobs

Biomerics – Galway – Biomerics, the leading vertically integrated medical device contract manufacturer serving the interventional device market, announced the opening of a 2,000 ft2 Balloons & Balloon Catheters Centre of Excellence in Galway and the creation of approximately 40 jobs

Advantio Sligo - a Cybersecurity provider specialising in Professional Services, Managed Security Solutions and SaaS security and compliance solutions, Advantio announced the establishment of its European Cybersecurity HQ in Sligo, with the creation of approximately 40 jobs

Du Pont – Westmeath - Du Pont announced a multi-million-euro investment and a major transformation of the OxyMemtm Membrane Aerated Biofilm Reactor (MABR) at its manufacturing facility in Athlone

Nikon Precision Europe (NPE) – Kildare – The company, which supports Nikon's Lithography systems for its European customers, announced plans to expand its Irish operation with the opening of new offices at the Kildare Innovation Centre, adding 40 extra roles to the 140 strong workforce in Ireland. The office will form part of the company's worldwide support network.

IDA Ireland Property Programme
IDA's Property Programme is central to the successful implementation of IDA's 2021-2024 strategy, supporting the agency in winning new name FDI and the expansion of our existing client base. The programme also supports the property needs of our sister agency, Enterprise Ireland.

The regional building programme will see 19 Advanced Building Solutions delivered in regional locations across Ireland during the lifetime of the strategy.

The current status of this programme is that construction has been completed on three buildings; an Advance Technology Building (ATB) for Monaghan, an Advance Office Building (AOB) for Sligo and the Advance Manufacturing Centre (AMC) in Limerick.

5 buildings are under construction at present; Advance Building Solutions (ABS) for Dundalk, Carlow, Limerick and Waterford's third ABS and an AOB for Athlone.

Other buildings under the programme, ABS for Sligo, Cavan, Galway Letterkenny, Mulingar, Drogheda, Longford, Tralee, Oranmore and Castlebar, are in various stages of site identification, design and planning phases.

In addition to these Advance Building Solutions and our existing business parks, IDA Ireland has acquired a number of landbanks for future development in counties Westmeath, Tipperary, Cork, Dublin, Galway, Kildare, Limerick, Louth, Waterford and Sligo.

Kerry Technology Park land acquisition
IDA has signed Heads of Terms to progress with the acquisition of the remaining lands at Kerry Technology Park, Tralee with Shannon Commercial Enterprises DAC.

This is a significant investment by IDA Ireland in the South West Region which will future proof the property offering in attracting Foreign Direct Investment (FDI) to the region and to Kerry in particular.
IDA is also proposing to identify a site within the land bank to accommodate the construction of an Advance Building Solution as announced as part of the IDA Strategy Driving Recovery & Sustainable Growth 2021 – 2024.